2012 Championship Tournament Results
2012 EMERALD COAST REDFISH CLUB CHAMPIONSHIP WINNERS
Presented to you by Legendary Marine
Championship Winners:
Fred Meyers and Jake Matney
with 12.73 lbs (Big Red of 6.78 lbs)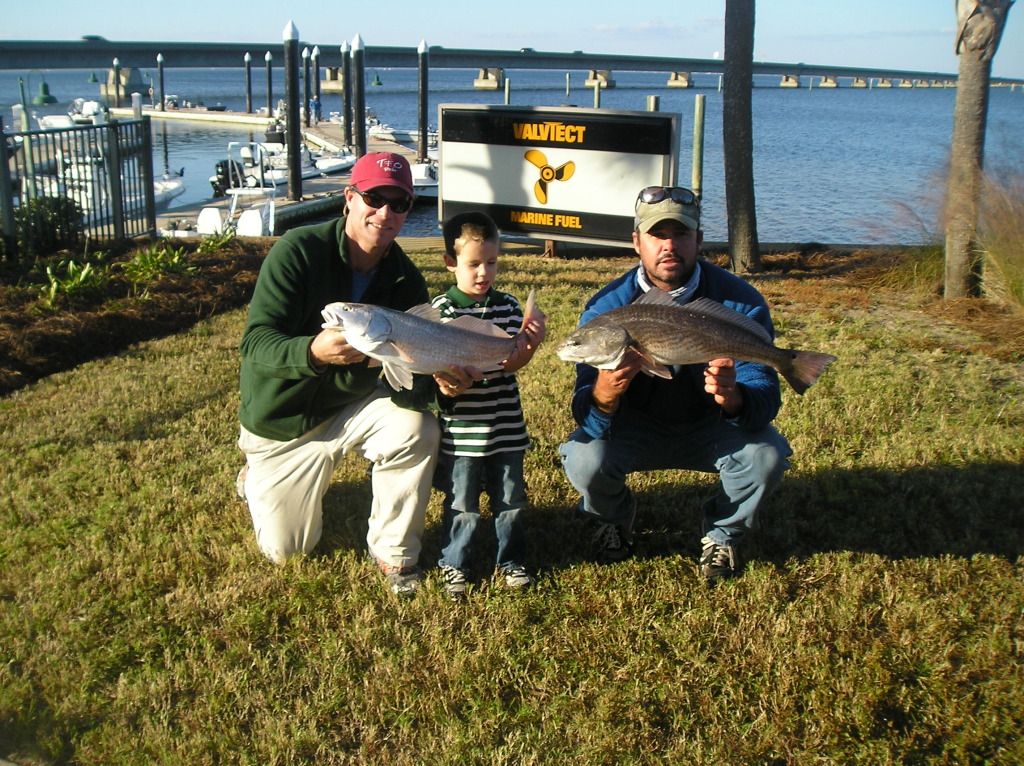 2nd Place:
Chloey Guy and Mike Smith
with 11.52 lbs
3rd Place:
Ken Cube and Mike Pattison
with 11.07 lbs
AND HERE IS HOW THE REST OF THE FIELD FINISHED:
4TH PLACE : BO SULLIVAN and ALAN CHASE with 11.00 lbs
5TH PLACE : AJ PASTWA and BAYLEE BUNYARD with 10.21 lbs
6TH PLACE : BILL LIPSCOMB and DALTON TAYLOR with 9.04 lbs
7TH PLACE : TODD and BILL ROYALL with 7.45 lbs
8TH PLACE: JIM and JAMES WHITAKER with 6.84 lbs
9TH PLACE : BILL OWENS and SCOTT PRUITT with 6.17 lbs (BIG TROUT OF THE DAY 20 1/8″)
10TH PLACE : TODD PUMPHREY and LLOYD BULLOCK
11TH PLACE : ART TEAL and MARK MCDUFFIE
A GOOD DAY FOR FISHING
It was a good day for fishing as teams met at Joe's Bayou Boat Ramp and waited for the break of daylight. Wind was forecast, but wasn't as bad as we thought it would be. Blast off was at 0550 and teams went east and west looking for that 12 lb bag that everyone knew was needed to win. It seems some teams found trout while other didn't – Billy Owens/Scott Pruitt won big trout for the last time in 2012. Fred and Jake took big red with a nice 6.78 pounder. Mike and Chloe went around the bridge and stayed local as did AJ and Baylee. Bill and Dalton went to Navarre for their fish, stopping along the way. Others went to Panama City's West Bay and some stayed local.
It was a beautiful day and reds were somewhat plentiful as most every team caught fish. Todd and Lloyd had some livewell issues preventing them from bringing in their catch. It was a good year for ECRC teams and Legendary Marine and Skeeter Boats donated 2 power poles that were raffled off at day's end. This was a really sought after prize won by Mark McDuffie. Congratulations, Mark! With the 2012 Season coming to a close, anglers are already looking forward to the 2013 Season.
MEMBERSHIP MEETING ON 1 DEC!
There will be a meeting on December 1st in Destin to discuss next year and raffle off some prizes. Please make sure you're able to make it. Until then see you on the water.